Electronic Sirens
Electronic siren systems for mass warning and notification – tailored to the needs of each customer
Absolute reliability, low maintenance and operating costs and investment protection thanks to a modular design – this is what matters when it comes to electronic siren warning systems. We have been a pioneer in the development and production of electronic sirens since the start of the 1990s. With the introduction of digital amplifiers to our new generation of sirens, we have set another milestone in terms of operability and reliability. HÖRMANN Warnsysteme is also the only siren manufacturer to use siren cabinets with standard 19-inch shelves. This dedication to the industry standard simplifies maintenance and replacement of components. HÖRMANN warning systems have not only been reliably used for years in the area of civil defence in the form of mass warning and notification systems, but also in industry and to alert fire services. With over 60,000 sirens installed and maintained by us around the world, HÖRMANN Warnsysteme can confidently call itself the market leader.
Your advantages:
The latest digital technology

Low battery consumption

Warning systems made in Germany

Investment protection thanks to modular design

Durable and reliable technology

In-house hardware and software development

Simple maintenance thanks to 19-inch standard

Extensive service network

Spare parts guarantee for 10 years or more
Advantages and characteristics of electronic siren systems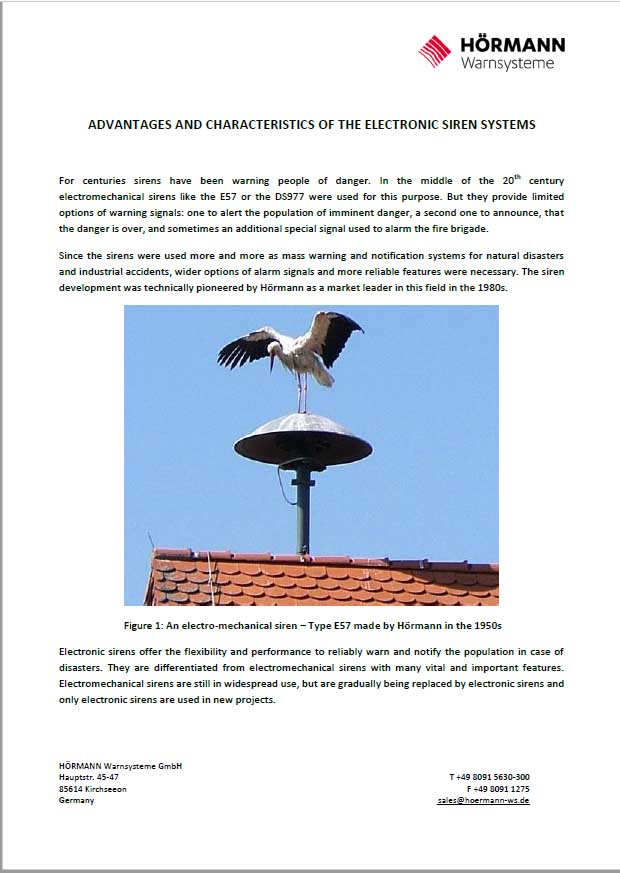 Najeeb Ali, expert in planning and implementation of siren systems, describes in this article the advantages and characteristics of  electronic siren systems. 
Download now