Sirens for Fire Stations
Sirens for fire stations to alert the fire brigade
Electronic sirens are essential for many fire brigades, despite there being digital and analogue radio receivers, SMS, mobile phones and other ways to issue warnings that may seem more modern. They are loud and drown out ambient noise, and what's more, they are not dependent on the availability of the internet and also work in network dead zones.
The requirements for siren warning systems for fire stations are very unique. For example, there is a big difference between a single electronic siren on the roof of the fire station to alert fire fighters in the area and a siren, which is used for public warning as well as to alert the fire brigade. In this case, fire station sirens are often integrated into a city-wide siren network. The electronic sirens from HÖRMANN Warnsysteme are suitable for all requirements thanks to their performance range and diverse control options. They are compatible with all currently approved siren remote control units and can easily be integrated into existing networks.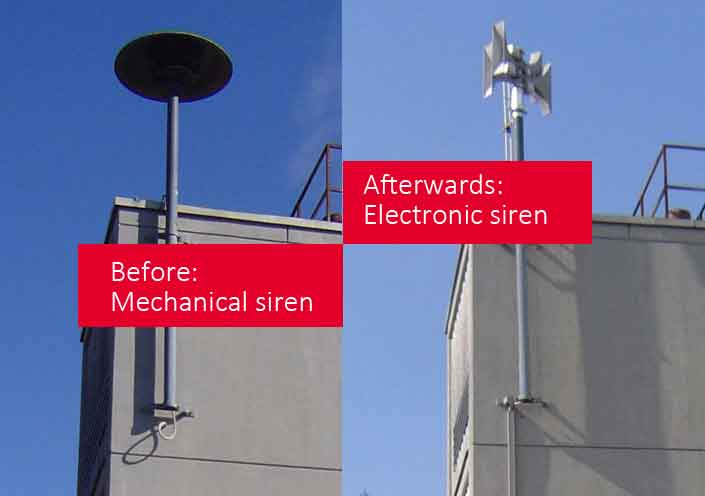 Electronic siren as an economical alternative for a mechanical siren
In rural areas in particular, there are still lots of electromechanical sirens installed as the only siren on fire station roofs. In Germany, these sirens have been used since the end of the Second World War. The E57 was installed in the Federal Republic of Germany, while the DS977 was installed in the former GDR.
These electromechanical sirens having been serving their purpose in many fire services for decades. However, the electromechanical siren has been outdated for a long time. It requires three-phase current and is therefore dependent on a power supply. An emergency power generator is required to maintain operability in the event of a power failure. Replacing the standard siren with a modern model does not require a lot of effort or money.
It is usually very straightforward to replace a single electromechanical siren with an electronic siren. The ECI electronic siren model is recommended as a modern, high-performance alternative to electromechanical sirens. Operation is simple without compromising on performance. The electronic sirens do not require three-phase current and remain operational for up to a month thanks to the integrated battery. The technology is easy to maintain. Many fire services have already replaced their old electromechanical sirens with our modern complete system, including, for example, the Baierbrunn fire service near Munich.