Warning System for Cities and Municipalities
Civil protection in cities – sirens provide a quick warning in the event of a disaster
In Germany, warning the population in the event of disasters and other dangers is a state issue. The federal government is only responsible for civil protection in matters of defence. Around 80,000 sirens were in use up to the end of the Cold War. Back then, there was still a national siren network. These sirens were largely dismantled at the start of the 1990s for cost reasons. Germany has not had a nationwide siren network ever since. Only municipalities that took over the costs for the network kept their sirens. In Austria too, many cities and municipalities operate their own siren networks.
The higher incidence of natural disasters, such as floods or hurricanes, as well as major fires or toxic substances in the air, which has made systems for alerting civilians necessary, has triggered a change in approach. Cities and municipalities, supported by their respective countries, have been constructing siren networks over recent years. Sirens are an essential part of a civil protection concept when you need to warn your civilians of an emergency quickly and reliably. They also let you reach people who may not have their radio on or their mobile phone with them or who are not connected to the internet. Sirens that not only warn, but also inform. In addition to siren alarms, sirens in some siren networks can also be used to output voice messages or radio announcements.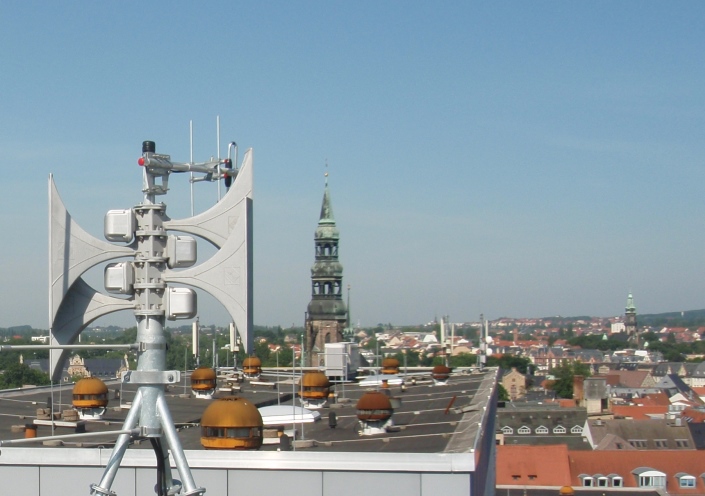 Requirements for regional siren warning systems:
Suitable for warning the public, but also for alerting fire services

Can be integrated into multi-level siren networks, for example regional or national

Connection option or flow of information between private warning systems, such as in plants at risk of major incidents, and the city warning systems

Multi-level control centre infrastructure possible

Can be integrated into warning concepts such as MoWas (Federal Modular Warning System) and into the analogue or digital BOS radio network of the respective country

Alternative communication options, e.g. via analogue UHF/VHF radio, DMR, TETRA, VPN, GPRS

Cost-effective to operate

Easy to maintain and long-lasting
Individuelle Planung für die optimale Wirkung
Die Sirenentechnologie hat sich in den letzten Jahren weiterentwickelt. Entsprechend ist es erforderlich Sirenenstandorte unter Berücksichtigung aller wichtigen Parameter (Schalldruck, Bebauung, Umgebungslärm, Standortbeschaffenheit, etc.) auszuwählen. Unsere Spezialisten planen deshalb jedes System individuell und finden so sowohl die optimalen Standorte als auch die dazu passenden Sirenenmodelle. Neben Standortkriterien wie Gefährdungslagen, Immission, topografische, meteorologische und bauliche Gegebenheiten werden dabei auch wirtschaftliche Gesichtspunkte mit einbezogen.
In städtischen Warnsystemen sind die Sirenen meist mit Hilfe von Sirenensteuerempfängern über das BOS Funknetz mit der Leitstelle verbunden, die darüber im Gefahrenfall den Alarm auslösen kann. Häufig ist auch eine Art Doppelnutzung, indem einige Sirenen gezielt zur Alarmierung der Feuerwehr eingesetzt werden. Neben einer zentralen Leitstelle, welche das komplette Netz überwacht und managt, erfolgt die Auslösung der Feuerwehrsirenen hier oftmals über eine einfache lokale Bedieneinheit per Knopfdruck. Manchmal sind auch Lautsprecher zur Warnung in Gebäuden zu integrieren.
Neben Funk ist die Ansteuerung der Sirenen über eine Standleitung eine ebenfalls gängige Methode. Darüber hinaus sind Kommunikationsverbindungen wie VPN oder GPRS möglich. Selbstverständlich können die einzelnen Kommunikationsmedien auch kombiniert werden, um die Ausfallsicherheit eines Systems zu erhöhen. Die Experten von HÖRMANN Warnsysteme waren nicht nur am Aufbau des damaligen Sirenennetzwerks Deutschland beteiligt, sondern können auf die Erfahrung von zig installierten Bevölkerungswarnsystemen in Städten und Gemeinden im In- und Ausland zurückgreifen.